AgCarolina and Cape Fear Farm Credit Merge
With the continued commitment to serving our members, local communities rural residents and the agricultural industry, AgCarolina Farm Credit and Cape Fear Farm Credit merged on January 1, 2023.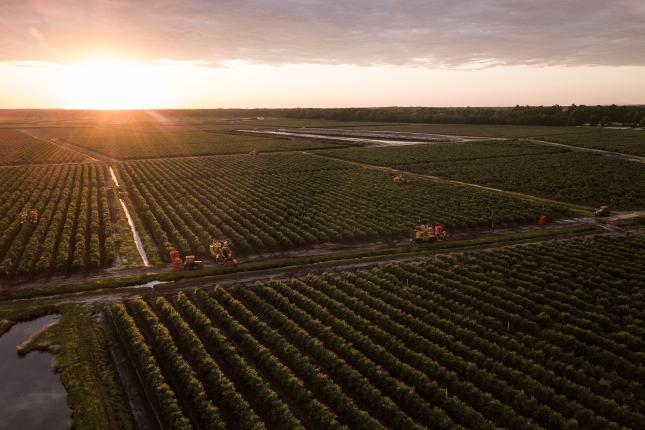 Do stockholders vote on the merger?

Yes. Assuming both Boards vote to recommend the merger and receive regulatory approval, a stockholder vote would occur in late 2022.

How will our local service be impacted by the merger?

Local service will continue to be a key focus, including local loan decisions and local delivery of services.

Will members have a new loan officer following the merger?

Members can expect the same local, personalized service from the same trusted experts at their local branches.

What will happen to patronage dividends?

Patronage dividends would continue to be an important part of members' ownership under a combined Association. As a cooperative, we would continue to return profits to our members as determined by the board of directors each year.

Will there be any change in loan approval time or the loan process generally speaking?

We anticipate that the loan approval time and process would remain relatively consistent throughout the merger transition.

What is the purpose of the special meetings of stockholders?

We each called a special meeting of stockholders in order to obtain voting stockholder approval of the merger of AgCarolina Farm Credit and Cape Fear. The new merged Association would be named AgCarolina Farm Credit, ACA. Under the Farm Credit Act, the Merger cannot go forward without the affirmative vote of a majority of each Association's stockholders voting, in person or by proxy, at a duly called meeting of stockholders. The Board is in support of the Merger and recommends that its stockholders vote to approve the Merger at the special meeting. If each Association's stockholders vote for the merger, there will be a 35-day period during which stockholders may file a petition for each Association to hold a second (reconsideration) vote on the Merger. The petition must be signed by 15% of either Association's voting stockholders. The Merger also requires final approval from our regulator, the Farm Credit Administration.

What factors caused the Board to consider a merger?

AgCarolina Farm Credit is a financially strong and profitable Association, however the Association sees many future challenges. The Association is experiencing escalating costs related primarily to needed technology investments and increased regulatory requirements and expectations. We face increasing competition from other lenders that are seeking to expand business in our territory. Lastly, as comparatively smaller Farm Credit System institutions, we are at risk of not keeping pace with a customer base that increasingly demands a sophisticated lender that is capable of providing for their growing and more complex credit needs.

What are some of the key advantages and benefits that you anticipate from the Merger?

In short, we support the Merger because we believe that a larger, more diversified organization, will be better positioned than either association on a stand-alone basis to provide reliable and affordable credit and related financial services to agricultural producers and rural residents in our combined territories, both today and into the future. Bigger is not always better. In this case, however, combining our operations and resources through the Merger will allow us to:

build an organizational structure that allows for increased specialization, more robust risk management, and added staff depth to address employee turn-over and succession;
achieve cost savings from eliminating duplicative functions, operational synergies and economies of scale;
reduce risk, including weather and climate-related risk, through a more diversified loan portfolio by commodity/borrower type and geography;
increase revenues by retaining larger hold positions in large loans commensurate with the association's increased risk-bearing capacity; and
more effectively tailor programs that address the needs of our young, beginning and small farmers and other under-served customer segments.

These benefits should result in a financially stronger, more profitable and resilient organization as compared to Cape Fear Farm Credit or AgCarolina, separately. From the perspective of our members, these benefits enhance our ability to (i) provide competitive interest rates to all customer segments; and (ii) maintain a strong patronage program that reduces the net cost of borrowing.

Please see pages 6-9 of this Merger Disclosure Statement for a more detailed description of expected organizational and stockholder advantages and benefits of the Merger.

Are there any disadvantages and/or risks of merging?

Are there any disadvantages and/or risks of merging?

We identified the following potential risks and/or disadvantages of merging:

Serving a larger territory and a more diverse customer base may make it more difficult to stay abreast of changes in all areas of our marketplace. In this regard, the Merger presents a risk that we will not be as quick in responding to the evolving needs of each of our various customer segments.
Combining the associations' back-office operations will require a significant commitment of employee time and resources. Challenges may be encountered in integrating IT systems and standardizing processes across the Merged Association, resulting in added stress on employees and potential delays in achieving cost synergies.
Merger integration or culture change could result in a loss of operational momentum and delay achievement of important goals and objectives, at least in the near term, compared to historical levels. The name change for Cape Fear stockholders may result in marketplace confusion.
The Associations project that merger-related expenses will total approximating $2.7 million, inclusive of costs already incurred. Please see pages 15-16 of the Merger Disclosure Statement for a discussion of merger-related expenses. We expect that it will take approximately one year to fully recover these expenses from the projected annual cost savings from the Merger.
Pursuant to an agreed board of director restructuring plan, the number of stockholder-elected director positions on the board of the Merged Association will decline over time from 19 to 10. This plan will dilute stockholder representation by increasing the number of stockholders per director position.
For Cape Fear, assuming the preferred stock authorization is approved (see discussion below), the Merged Association will be barred from paying patronage distributions unless the Merged Association first declares and pays accumulated dividends on all outstanding shares of preferred stock. At the current dividend rate, the annual dividend on AgCarolina's $42.2 million of preferred stock is approximately $317 thousand.

Please see pages 6-9 of this Merger Disclosure Statement for a more detailed description of potential disadvantages and risk factors of the Merger.

What changes will I see in my day-to-day interactions with my Association?

Other than rebranding of the Cape Fear Farm Credit branch offices, it is not anticipated that the Merger will result in any changes to our branch offices. As a member, you will continue to receive the same high level of customer service and industry expertise that you have come to expect from our qualified staff.

Why are Cape Fear Stockholders being asked to vote on AgCarolina's Preferred Stock?

Several years ago AgCarolina received authorization from its stockholders to issue preferred stock to its members. As of March 31, 2022, AgCarolina had $42.2 million of preferred stock outstanding held by approximately 240 members. This preferred stock has certain priorities over AgCarolina's common stock, such as a liquidation preference. In addition, AgCarolina is not authorized to pay patronage unless it first pays accrued dividends on the preferred stock. Because of these priorities, FCA Regulations required AgCarolina to obtain approval to issue the preferred stock from the holders of each class of its common stock and participation certificates. As a result of the Merger, Cape Fear stockholders will become stockholders of AgCarolina and, as a result, they too must approve AgCarolina's authorization to issue preferred stock, on a class-by-class vote. Accordingly, Cape Fear voting stockholders are being asked to vote on the preferred stock authorization (in addition to the merger). Ballots are also being sent to the holders of each class of non-voting stock and participation certificates in Cape Fear to obtain their approval of the preferred stock authorization. If the Merger receives voting stockholder approval but one or more classes of Cape Fear common stock or participation certificates do not vote in favor of the preferred stock authorization, the Merger will still go forward. However, AgCarolina, as the surviving institution, will cease to have authority to issue preferred stock and will be required to redeem all preferred stock prior to the date of the Merger.

How do I vote on the Merger?

You can either submit a proxy ballot by mail or attend the special meeting and vote in person.

What if I have questions on the Merger?

If you have any questions on the Merger, please contact Dave Corum at (919).250.9500 ext. 219 or dcorum@agcarolina.com.

If you have any questions on voting, please contact Skipper Jones at (910)-323-9188 ext. 849 or sjones@agcarolina.com.
Do you have a question about the merger?
If you have any questions related to the merger, please send us an email to merger@agcarolina.com.
AgCarolina Farm Credit Board Approves Proposed Merger with Cape Fear Farm Credit
In early October, the Board of Directors of AgCarolina Farm Credit obtained regulatory approval of the proposed merger of the two Associations and finalized the stockholder merger disclosure statement was sent to all eligible stockholders on October 21, 2022. This packet includes a range of important details, including instructions on when and how eligible stockholders can vote on the merger.
Stockholders were invited and encouraged to attend an information session either virtually or in-person this past October 27th, 2022 and October 28th, 2022. These local events gave members an additional opportunity to learn about the proposed merger and why the AgCarolina Farm Credit Board of Directors recommend approval.
Members were encouraged to prepare for the proposed merger vote by thoroughly reviewing the mailed stockholder disclosure packet. Eligible stockholders cast their vote via in-mail or at the in person special meeting held on November 15, 2022. This meeting was held at AgCarolina's Greenville Office located at 636 Rock Spring Rd., Greenville, NC.
The results of the stockholder vote were mailed to AgCarolina stockholders on November 17, 2022. Below is a copy of the letter.
November 17, 2022
NOTIFICATION OF RESULTS OF STOCKHOLDER VOTE ON THE MERGER OF CAPE FEAR FARM CREDIT, ACA WITH AND INTO AGCAROLINA FARM CREDIT, ACA
Dear Stockholder:
We are pleased to inform you that at a duly called special meeting of stockholders held on November 15, 2022, the voting stockholders of AgCarolina Farm Credit, ACA ("AgCarolina") approved the merger (the "Merger") of Cape Fear Farm Credit, ACA ("Cape Fear") with and into AgCarolina. In a separate meeting held on November 15, 2022, the voting stockholders of Cape Fear approved the Merger. The Cape Fear stockholders also approved AgCarolina's issuance of preferred stock.
Pending final approval of the Merger by the Farm Credit Administration ("FCA"), the Merger will take place effective January 1, 2023, whereupon the separate legal existence of Cape Fear will cease and each Cape Fear stockholder will become a stockholder of AgCarolina.
By federal law, the voting stockholders of either Cape Fear or AgCarolina may petition the FCA to require each Association's voting stockholders to meet to reconsider the Merger. The reconsideration petition must be signed by 15% of the voting stockholders of Cape Fear or AgCarolina. The reconsideration petition must be filed with the FCA within 35 days after the date this notice was mailed (which is the date at the top of this notice). Voting stockholders that intend to file a reconsideration petition have a right to obtain from the Association of which they are a voting stockholder the voting record date list used by that Association for the Merger vote. The Association must provide the voting record date list as soon as possible, but not later than 7 days after receipt of the request. If FCA determines that a reconsideration petition was properly filed, a special stockholders' meeting must be called by the Association(s) to reconsider the Merger vote. The reconsideration vote must be conducted according to the same voting requirements that applied to the first vote.
For additional information regarding your right to petition for a reconsideration vote or to request a stockholder list, please consult the Disclosure Statement sent to stockholders earlier this month or you may call Skipper Jones, Corporate Secretary at 919-250-9500 ext. 849. If you have any other questions regarding the Merger, please call Evan Kleinhans at 910-323-9188 ext. 3243.
Thank you for your continued support.
Sincerely,
Evan Kleinhans, President and CEO
1 See 12 U.S.C. 2279c-2; 12 C.F.R. § 611.1126.
As we work to ensure a smooth, transparent process, we encourage you to check back to this landing page for updates on the merger, important documentation, and copies of official member communications.
View our Merger Disclosure Statement.