Farming is uncertain and can be filled with risk. From fluctuating commodity prices to unpredictable weather, operating a farm is rewarding but has its challenges. At AgCarolina Farm Credit, we understand the volatility of farming.
We are committed to providing the financing needed so farmers run their operations effectively, despite the challenges they face daily. That's why we offer farm operating loans. It's a resource that works with you through life's challenges. 
Operating Loan Purpose and Benefits
Farm operating loans can help maintain, strengthen, or even start a farm. Their purpose is to alleviate some of the stress of farming by giving you more control and flexibility. We can't control the weather, markets, or things breaking down, but we can control how we operate.
Operating loans are a valuable resource that helps all farmers access the field of agriculture and run more effectively. This loan allows you to maintain adequate cash on hand and manage working capital. 
Farm operating loans may provide:
Cash discounts
Locked in prices by paying ahead
Tax benefits for prepayment of some expenses
Payments that can be scheduled to coincide with your income
What's more, a loan with us gives you access to our experienced lenders who fully understand agriculture and its challenges. They will work with you to ensure your operating loan fits your unique operational needs.
We are committed to serving our farmers with a team of trusted advisors who not only know and understand farming but are focused on building lasting relationships to help farmers succeed.  Competitive farm operating loan rates, customizable options, payment flexibility, genuine relationships, and a heart for agriculture—we offer everything you need or could want to make your farming operation thrive! 
Frequently Asked Questions
How does payment work with operational loans?

Payment can be scheduled to coincide with your income from crop or livestock sales. 

Are there different types of lines of credit available? 

Yes! Revolving and annual lines of credit are available to farm owners and operators.

Why should I consider a line of credit for my operation? 

A line of credit (LOC) is designed to provide flexible and efficient credit to borrowers whose business and related activities result in cash flow timing differences, and periods of cash surpluses and deficits. 

What operating expenses are included? 

Some examples of expenses covered by operating loans are: seed, fertilizer, labor, and harvest. Talk with a lender today to learn if your operating expenses fall under this particular loan.  

How do I make payments? 

Pay at our offices or make payments with our easy-to-use mobile app. Visit our account management page to see all that we offer.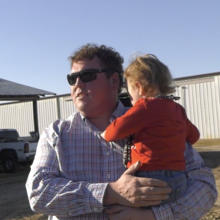 "Farm Credit understands the risks involved in farming. I'm dealing with local members of my community that understand my needs and can help me when I need help."
Do you want to learn more? Schedule a time to meet with a relationship lender about your operation and financing needs.