Farm land often has a rich history, but it also holds much promise for the future. Whether you want to get into farming or expand your operation, AgCarolina Farm Credit can help you finance the purchase of farm land. 
A Great Place to Farm
There is something special about owning farm land. It's a chance to cultivate and grow things, to enjoy fresh air and sunshine, to nurture the land so it can be passed down to the next generation. There's a lot of hard work involved, but many, maybe even you, desire to work on your very own piece of North Carolina farm land.
"There have been few things in my life which have had a more genial effect on my mind than the possession of a piece of land."
– Harriet Martineau
North Carolina's number one industry is agriculture and more than 80 different crops and commodities are grown on the more than 8 million acres of farm land in the state. 
Farm land loans can be small or large tracts of land and be for multiple uses including farm land (row crop, pasture, and more), timberland, and recreational. We also offer refinancing.
Are you looking to be a part or continue growing in our state's agricultural industry? Are you interested in farm land loans in North Carolina? You've come to the right place!
Experts in the Field
AgCarolina Farm Credit is the farmer's lender of choice, and we are proud to serve so many in our agricultural community. Our team members have a vast amount of knowledge and expertise in agri-business, financing, and farming. Most have agricultural backgrounds and all are immensely passionate about the industry. 
Money Back in Your Pocket
We offer competitive farmland loan rates as well as a patronage program. In other words, when you use AgCarolina Credit to finance your farm land loan, you'll get money back in your pocket. 
If you are going to purchase land for farming, be assured that with AgCarolina Farm Credit, you'll be in good hands. Don't take our word for it, though. Hear from one of our customers.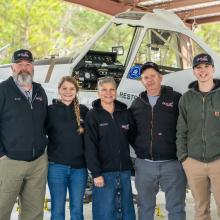 "In addition to patronage, another thing that impressed us is that Farm Credit truly has a passion to help farmers like us and to improve the ag industry as a whole."
If you are interested in land for farming, our team members would be happy to discuss options.