North Carolina has long been a national leader in poultry and hog farms, producing quality protein for communities. The state also boasts many other livestock operations including cattle, goat, sheep, and more.
AgCarolina Farm Credit is proud to partner with farmers and be a part of the livestock and poultry industries. We are ready to help you start, sustain, or grow your operation.
The Farm Credit Farm Facility Loan Advantage
At AgCarolina Farm Credit, we are experienced and knowledgeable about the challenges and needs of raising livestock and poultry. We provide loans to more than 2,500 farmers and rural Eastern North Carolina residents. In fact, some of our team members raise livestock themselves.
The point: we get it. 
We understand the planning it takes to build a farm. We recognize the value in growing your farm. We know the challenges farmers face. We appreciate the passion and hard work that is invested in caring for your animals. We go beyond livestock and farm facility loans. We are there when you need it most.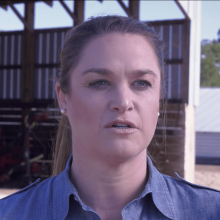 "I chose Farm Credit because in the beginning they were fully aware of what it would take me to get up and running….Why they have been able to retain my business is because I feel that there is a fellowship there, as if they're an extension of my family."
Ballard Farms, Hoke and Robeson County, NC
Livestock Loan FAQs
Are farm facility loans limited to a certain livestock species or size of operation?

No! We enjoy working with a variety of farmers from swine to cattle and beyond. If you have an idea for your farm, we'd love to talk with you about it!

Do you provide loans for building/growing an integrated farm?

Yes! Before you contact Farm Credit about a livestock loan, we encourage you to contact an integrator. The integrator is a vital team member in ensuring your eligibility for financing.

What should I discuss with an integrator?

Discuss your start-up or expansion plan to ensure it fits their needs and requirements. 

What are the requirements for a livestock loan?

Livestock loan requirements vary depending on your farm goals and vision, but in general, it's important to have a business plan. Contact us today to talk about details.
Do you want to learn more? Schedule a time to meet with a relationship lender about your livestock loan needs.