With open space, a slower pace, and crisp, fresh air, rural living gives you a life of peacefulness and a sense of finally feeling at home. 
AgCarolina Farm Credit offers home financing as a part of our Rural Life Lending services. We can help you finance a place to call home. Our team members are experienced local professionals who understand the needs of home buyers.  Many of our team members live in the same communities they serve, and we can't wait to welcome you to the "neighborhood."
Meeting Your Home Financing Needs
We help our customers understand the financing packages available so they can choose the option best suited to their needs. As an expert in rural life lending, we help secure a competitively priced financing package for a variety of purposes including home purchase and home refinance. 
We offer competitive mortgage rates and appealing interest rates. With a focus that goes beyond just mortgages, loans and finances, we are a lender that prioritizes relationships. This is more than a transaction for us. When you finance with Rural Life Lending from AgCarolina Farm Credit, you are getting a support system that is committed to the fruition of your dreams! We are ready to help you finance a new home and make new memories. 
New Home. New Memories.
Buying a home can be overwhelming, especially trying to understand the financial aspects. With Rural Life Lending, we help you understand mortgage rates and walk you through the steps needed to purchase your new home. We believe that you should spend less time worrying about home finance, and more time making memories in your new home.
"May your walls know joy; may each room hold laughter, and may every window open to great possibility."
—Mary Ann Radmacher-Hershey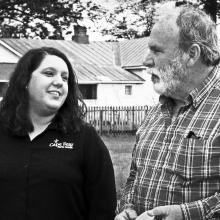 "While there is a lot involved, we are dedicated to assisting you every step of the way."
Frequently Asked Questions
Are questions still swirling around in your head like:
How do I get pre-approved for a home loan?
How to get a mortgage?
How to refinance a mortgage? 
Tips from Our Team
Pre-approval
Contact us today to start the pre-approval process. A mortgage pre-approval helps you know what you can afford and be in a good position to purchase a home. It is like a physical exam for your finances and looks at things like, credit score, income, credit history, and employment history. Your pre-approval letter lasts 60-90 days, so plan accordingly. 
Home Loan
We would love to discuss various loan options with you. We know everyone's situation is unique, so being able to review different options allows you to choose the best fit for your family. 
Refinance
Refinancing your home can save you money, help build equity, or help pay off your mortgage faster. Sometimes, refinancing just makes sense. You should consider refinancing if you can lower your interest rate by one-half to three-quarters of a percentage point. Re-financing may not be a good idea if you plan to move within a couple of years.
Easily compare your options with our mortgage calculator.
Rural Life Lending from AgCarolina Farm Credit is a lender for your family, and we are eager to help you make home sweet home a reality. Reach us today.