INNOVATIVE YOUNG FARMER AWARD PRESENTED BY FARM CREDIT ASSOCIATIONS OF NC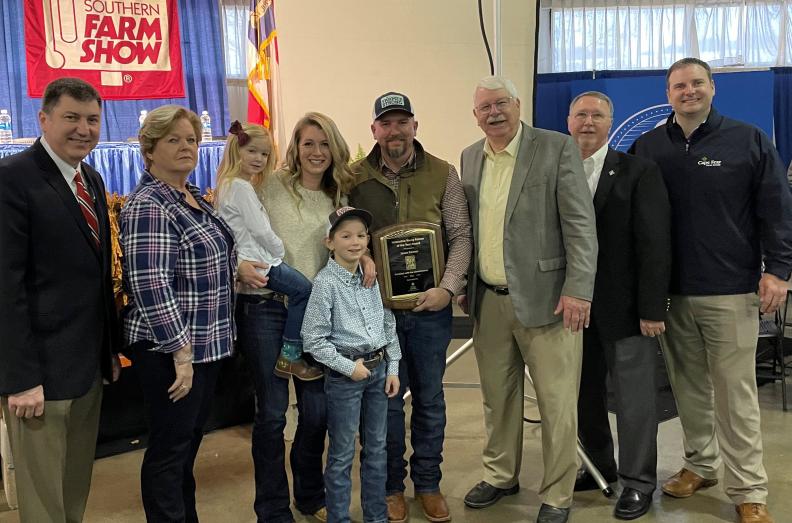 The Farm Credit Associations of NC announce Jason Farmer as the recipient of the 2022 Innovative Farmer of the Year Award presented at The Tobacco Farm Life Museum's breakfast with the Commissioner of Agriculture Steve Troxler.
Jason and his wife, Natalie, operate Wester Farms in Louisburg. The farm grows tobacco, fresh market peppers, process market peppers, cucumbers, corn, wheat, soybeans, oats, and they cut approximately 1,200 acres of hay. They also run a cow calf herd of 600 head along with an 800 head stocker calf operation where they buy local farm raised calves from local cattle producers.
Charles Mitchell, Franklin County Cooperative Extension Director, nominated Jason for the innovative young farmer award. He states, "Jason, his family, and Wester Farms are a prime example of how agricultural innovations put in practice on the farm can inspire young and old farmers alike to be creative and make the needed changes to persevere in today's agricultural world."
In addition to his work on the farm, Jason advocates for agriculture as often as he can. Jason is a Franklin County Cooperative Extension Advisory Council Member, as well as a Franklin County Cooperative Extension Commercial Horticulture Advisory Member. He is on the board of directors for the North Carolina Soybean Producers Association and the North Carolina Ag Foundation.
The CEOs of AgCarolina Farm Credit, Cape Fear Farm Credit, and Carolina Farm Credit are Dave Corum, Evan Kleinhans, and Vance Dalton respectively. They issued the following joint statement regarding Farmer: "We are pleased to be able to recognize Jason Farmer as the 2022 Innovative Young Farmer of the Year. Jason and his family have experienced highs and lows both in agriculture and within their family. Their commitment to family and being a good steward of the land is to be commended. The agricultural industry in North Carolina is stronger because of innovative young farmers like Jason. We congratulate Jason and his family for this award and look forward to their achievements in the future."
Back to News